Employment by occupation
Click here for detail indicators
Introduction & Background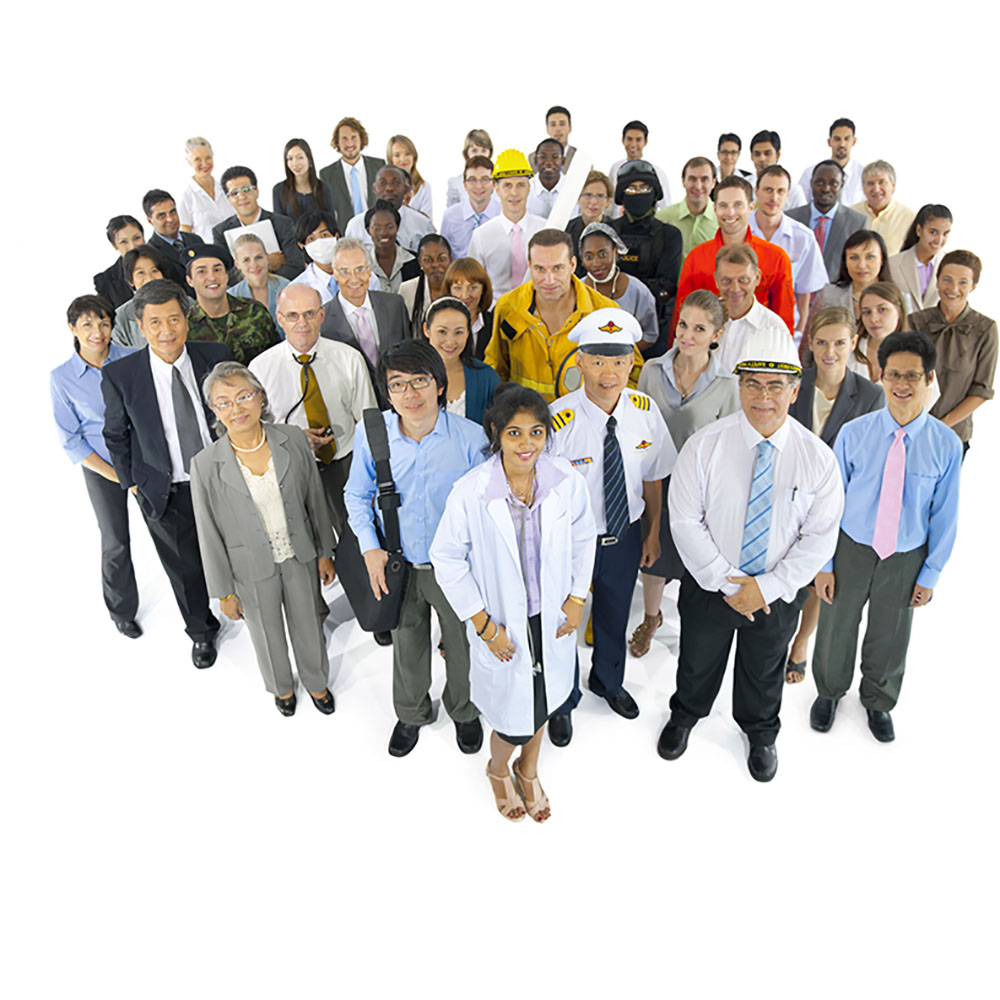 The employment by occupation indicator classifies jobs according to major groups as defined in the 2008 Malaysian Standard Classification of Occupations (MASCO-08). Before 2011 statistics were collected under the 1988 MASCO-88 together with the 1980 Malaysia Dictionary of Occupational Classification. MASCO-08 follows the ILO International Standard Classification of Occupations (ISCO-08). KILM 5 can be further disaggregated by greater granularity in a four-level hierarchical structure for job types; by socio-economic factors e.g. gender; and by skill sets in relation to the levels of education specified following the International Standard Classification of Education (ISCED). MASCO-08 applies three skill levels – skilled or semi-skilled or low skilled workers. With regards to skills, the nature of the work performed in relation to characteristic tasks, defined for each skill level, takes precedence over formal educational requirements. The use of ISCED categories to assist in defining the skill levels does not imply that the skills necessary to perform the tasks and duties of a given job can be acquired only through formal education. The skills may be, and often are, acquired through (both formal & informal) training and experience. The emphasis should be on skills required to carry out the tasks and duties of an occupation, and not on whether a worker employed in a particular occupation is more or less skilled, or more or less qualified, than another worker in the same occupation.
The ILO defines occupation as a set of jobs whose main tasks and duties are characterised by a high degree of similarity. A job is a set of tasks and duties performed, or meant to be performed, by one person, including for an employer or in self-employment. MASCO-08 has 9 occupational categories comprising (1) Managers; (2) Professionals; (3) Technicians and associate professionals; (4) Clerical support workers; (5) Service and sales workers; (6) Skilled agricultural, forestry and fishery workers; (7) Craft and related trades workers; (8) Plant and machine-operators and assemblers; and (9) Elementary occupations. Statistics for members of the armed forces and other security agencies are available but not included in MASCO-08 and KILM 5.
The data for occupation is captured through the Labour Force Survey conducted periodically by the Department of Statistics Malaysia (DOS) using the household survey methodology.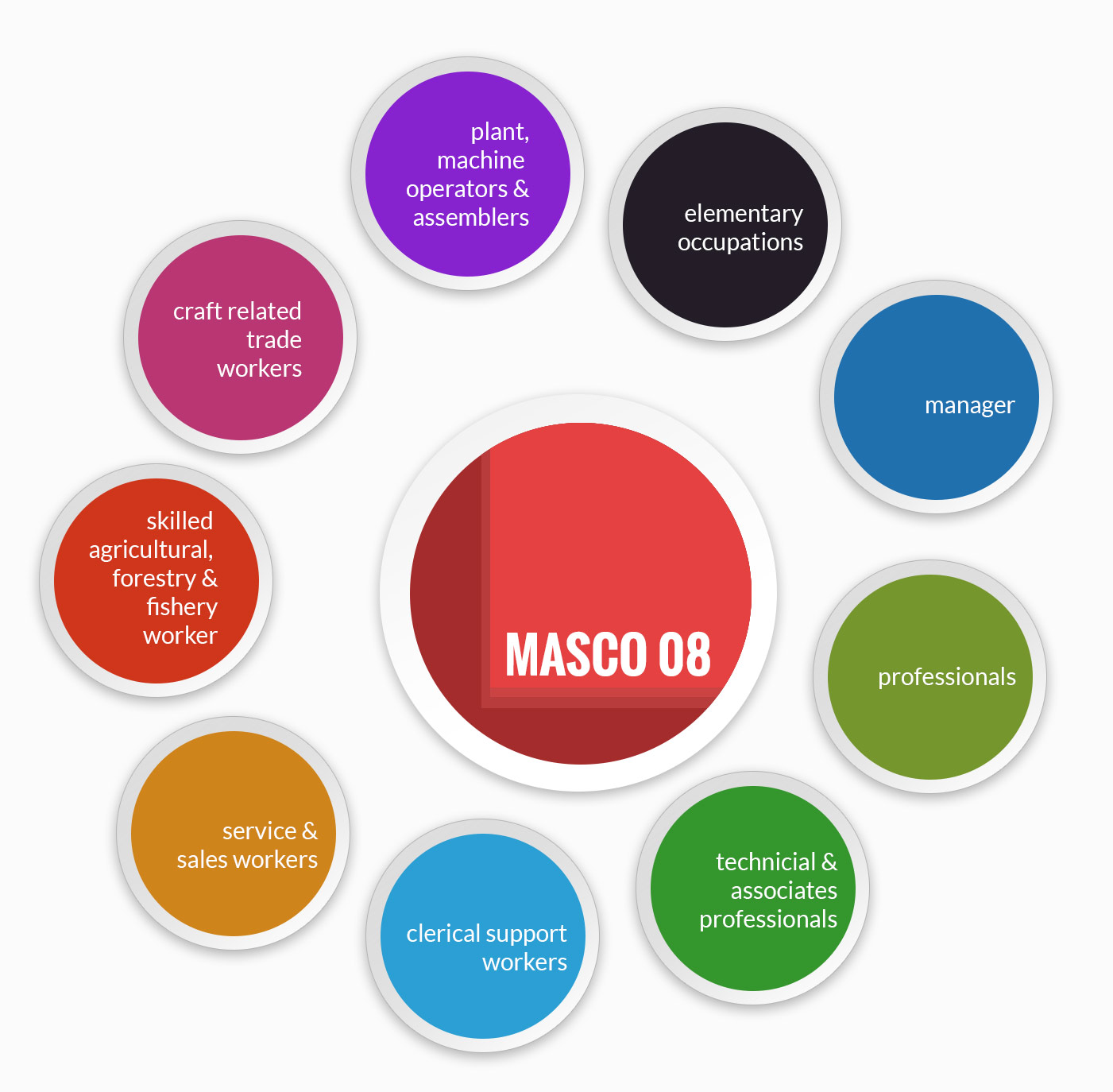 The Limitations/Comparability
More detailed analysis of future skills needs and jobs outlook is limited by the granularity of the available information on occupational groupings, which in MASCO-08 is limited to four levels and for ISCED-linked skills to three types. Moreover, higher detailed levels of occupational categories face sample size limitations and representativeness issues. Occupation and skills information could be improved with better links of qualifications and skills to Malaysia's MQS and NOSS norms. When undertaking comparisons using the time series due care is needed to account for the changes from updates in MASCO and ISCO. Also, when benchmarking with other countries it is important to give due consideration to variations in the use of ISCO, inclusion by some countries of members of the armed forces in occupational groups and the use of combinations of labour survey and establishment survey data in drawing up the occupational categories.
Moving forward
There is a need for more detailed information to understand why the trend in skilled workers remains stagnant and against the ETP and NEM aspiration for raising the proportion of skilled workers to 50% of the workforce by 2020. In this endeavour it would be useful to better align MQS and NOSS certification of skills to the information on occupation categories of MASCO-08. Better KILM 5 information will contribute positively to meeting the needed future skill requirements of the economy to achieve the knowledge-based high income nation objective of the NEM.